News
2019. 07. 09
The EDVR framework Developed by Multimedia Lab won in the NTIRE 2019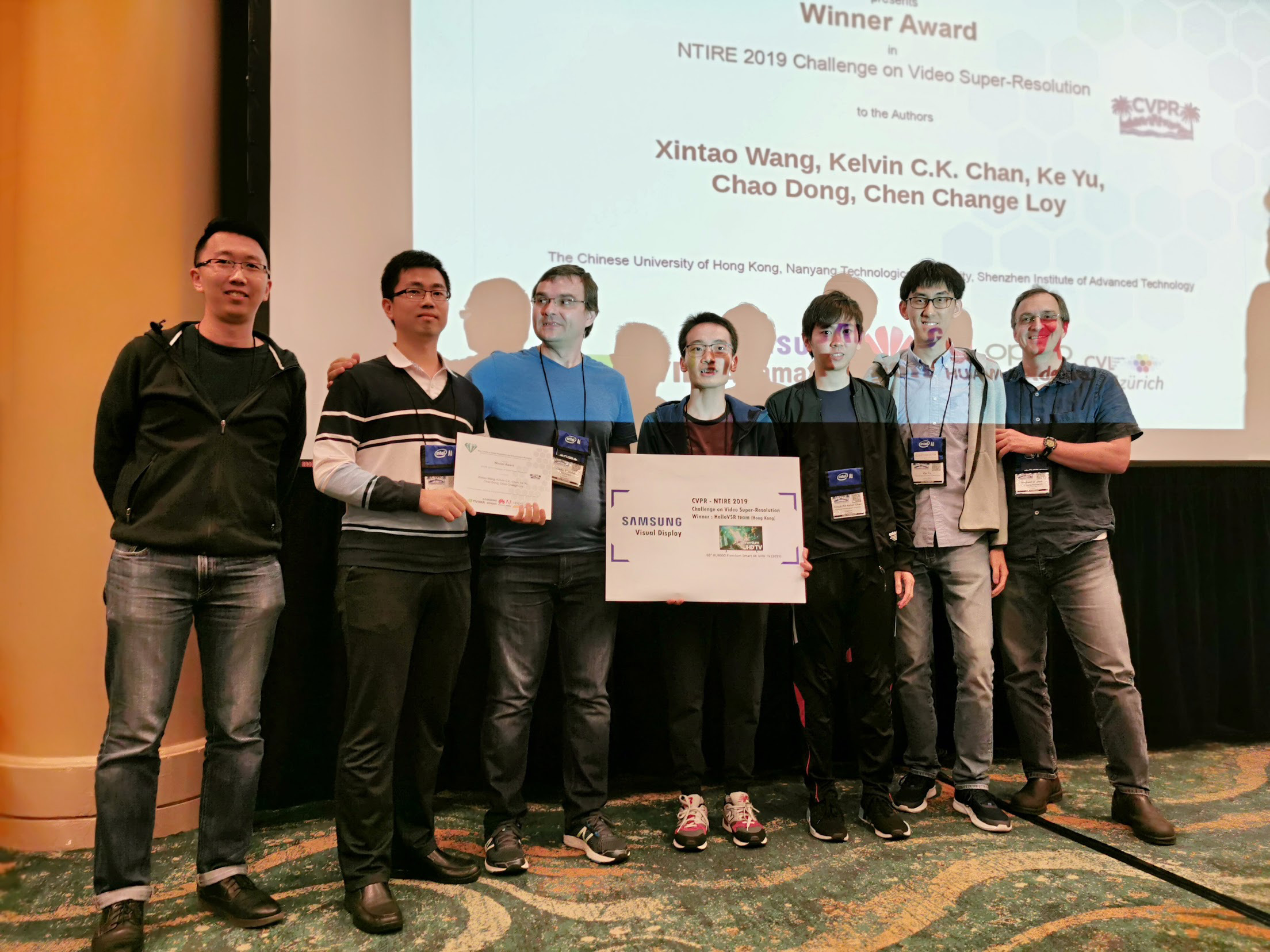 NTIRE (http://www.vision.ee.ethz.ch/ntire19/) is the largest and most important competition on Image restoration and image enhancement. The competition this year was held in conjunction with CVPR 2019.
Prof. Chen-change LOY (NTU, CUHK) and Prof Chao DONG (SIAT) led a joint team with members from The Chinese University of Hong Kong, Nanyang Technological University, Shenzhen Institutes of Advanced Technology, and SenseTime to develop a new deep learning method called EDVR. With the method, the team won all four tracks under the video restoration challenge, which included the tasks of video super-resolution and video deblurring.
It is noteworthy that this was the first video restoration challenge after three years of consecutive NTIRE competitions that focused on image restoration. In comparison to image restoration, video restoration is more challenging due to large and complex motions between frames. To cope with large motions, the team devises a Pyramid, Cascading and Deformable (PCD) alignment module, in which frame alignment is done at the feature level using deformable convolutions in a coarse-to-fine manner. In addition, the team proposes a Temporal and Spatial Attention (TSA) fusion module, in which attention is applied both temporally and spatially, so as to emphasize important features for subsequent restoration. Thanks to these modules, the proposed EDVR placed first and significantly ahead of its competitors in terms of speed and restoration quality.
The team has released the paper entitled "EDVR: Video Restoration with Enhanced Deformable Convolutional Networks" on arXiv. Link: https://arxiv.org/abs/1905.02716
The source code is available at GitHub:  https://github.com/xinntao/EDVR
All team members have very close connection with the Department of Information Engineering, CUHK. They are: Xintao WANG (IE PhD), Kelvin C. K. CHAN (2016 MAIE graduate, current a PhD student at NTU), Ke YU (IE PhD), Chao DONG (2016 IE PhD graduate, current an Associate Professor at SIAT) and Prof. Chen-change LOY (current an Associate Professor at NTU and IE Adjunct Associate Professor).
Congratulations to them!


Back