News
2021. 06. 03
IE Students Win the Third Prize in the 7th Hong Kong University Student Innovation and Entrepreneurship Competition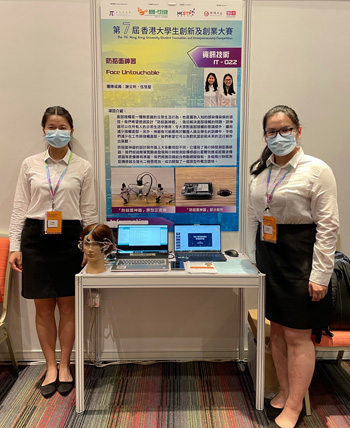 We are excited to share the news that IE students Man-yan Tse and Tim-ying Ng, supervised by Prof. Jack Lee, have won the Third Prize (Information Technology Stream) in the 7th Hong Kong University Student Innovation and Entrepreneurship Competition with their Final Year Project "Face Untouchable".
The winning project is about preventing people from face-touching with the help of technology. The team has built a fully functional prototype with ToF sensors, NodeMCU ESP32 and LED light bulb to alert users when face-touch behavior is going to happen.
Hearty congratulations to the team. The Award Ceremony will be held in late 2021.
An awardee list can be viewed at:
https://www.hkchallengeplus.com/wp-content/uploads/2021/06/The-7th-Hong-Kong-University-Student-Innovation-and-Entrepreneurship-Competition-Awardee-List-R.pdf